Pokémon Go
Yes, people still play it. And yes, I'm a few years behind.
I don't typically play a lot of games on my phone (mainly because I get addicted too easily) but desperate times call for desperate measures. Lately I've picked up Pokémon Go because I wanted something I could play socially and that would get me out of the house. I'm finally understanding what all the hype was about when it first came out.
The combining of the digital and physical worlds is incredibly well done. It's a great way to explore a new place by walking or biking around neighborhoods and stopping at Pokéstops, Gyms, or Raids. Yes, you will be that person oddly standing on the sidewalk for an unusually long time while you stare at your phone to catch a Pokémon or battle a stranger. To bring you even closer to the real world you can switch on AR mode, which I find really fun. So then you're the weird person standing there pointing your phone around instead of looking down at it. Just a few minutes of playing like this gets you excited about the possibilities for AR and simultaneously bummed that it's still not ubiquitous.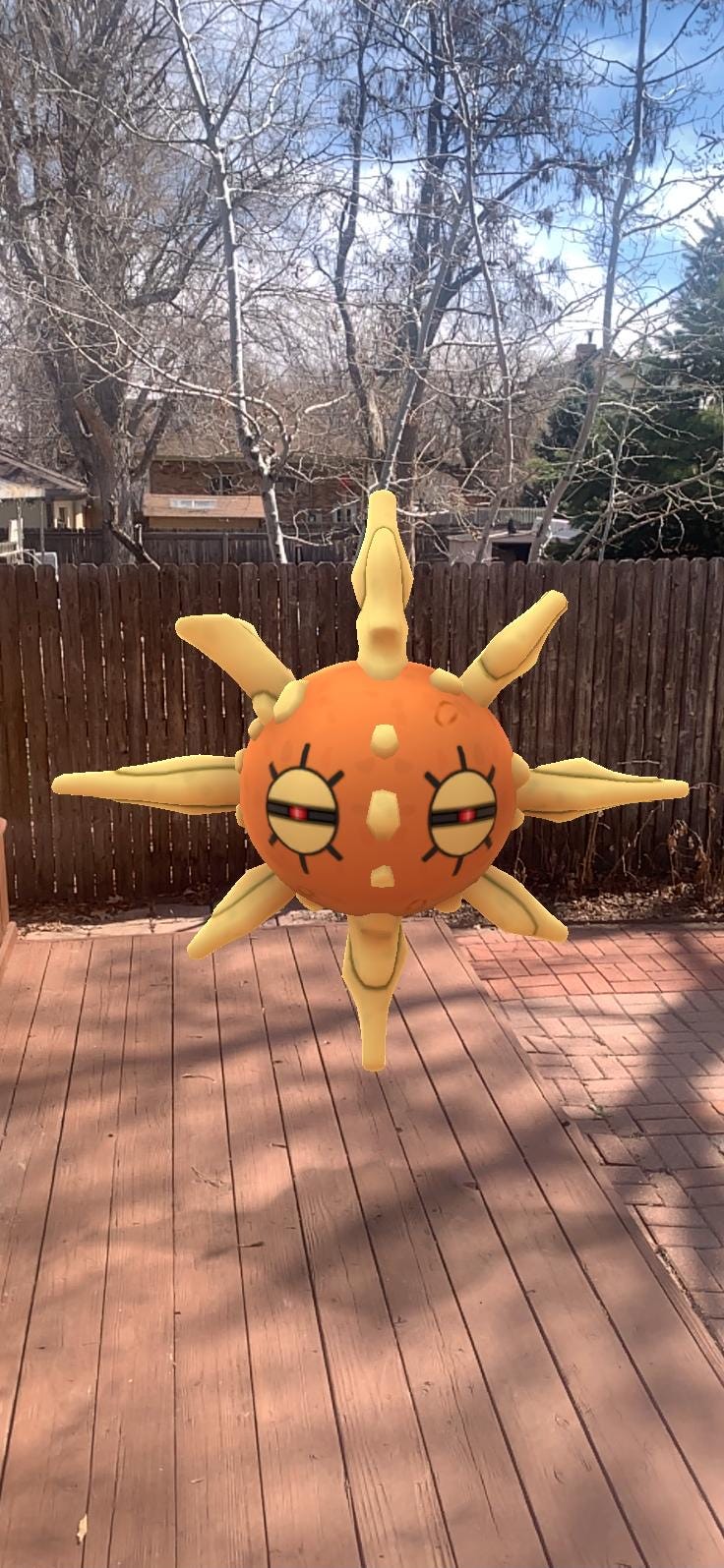 Solrock floating in my backyard.
I've never watched a single episode of Pokémon so the characters and gameplay were all new to me but that wasn't as much of a hurdle as I thought it would be. After only a week or so I'm rattling off names of Pokémon I want to catch and cursing the ones I know are strong when I come up against them.
Obviously this is a game that is intended to get you outside and interacting with other people but it's easy enough to do the former without the latter during social distancing guidelines. Niantic, the maker of the game, has been adjusting the rules quite a bit that does allow you to do more from home than before. That is welcome and am curious to see if those changes stay even after lockdown ends.
If you're a longtime player or just looking for a fun little escape, add me as a friend using my trainer code (5359 5860 9910) or scanning my QR code below. Whether or not I keep playing after the world returns to some semblance of normal remains to be seen. But for now I'll enjoy trying to catch 'em all.