Hello, Denver!
About a decade ago I arrived in the Bay Area (Mountain View to be specific) to start a big new chapter in my life. After living in Monterey for about a year I wanted to do something I was more passionate about, be closer to my friends, and live at the epicenter of technology. Moving and taking a job at Tesla ended up being an amazing decision as it very much defined who I am today.
After spending a couple of years on the Peninsula, my boyfriend and I decided to give up our relatively short commutes to Palo Alto and move to San Francisco. We didn't want to look back on our lives when we were older and say that we lived in the Bay throughout our 20s but never in the city. So, we figured that we'd treat it like a year abroad. We'd stay for about a year and if we didn't like it then we'd move back down south. Seven years later, I had finally had enough and was ready to move on.
Living in San Francisco was, on the whole, another great life decision. I got to live in three different neighborhoods (Mission, Lower Haight, & Duboce Triangle), work at two satellite startups and a 3D mapping startup, date some amazing men, eat a ton of good food, join a racing team, meet people from all walks of life, explore trials, and have experiences that I truly believe wouldn't have happened anywhere else. But something about San Francisco never really felt like home.
As everyone knows, the entire Bay Area region is insanely expensive. The idea of settling down there seemed so far out of reach despite having a well paying job. The city of San Francisco suffers from what seems like intractable petty crime, street homelessness, rampant hardcore drug use, and widespread filth. All of this is despite its citizens having extremely high incomes. But that was also part of the problem. There is massive inequality in the city and, despite being "diverse", felt extremely homogenous due to the high concentration of a single major industry in the area. I won't get in to the causes or potential solutions to the city's problems but I will say that it was no longer a place that I wanted to be.
In searching for where I would go next, I wanted to make sure that I was improving upon my frustrations with the Bay Area. First of all, I wanted more space. I grew up in the country and enjoy being outside. Living in a studio in close proximity to so many other people was not making me happy. Ideally I'd have a house with a yard and space to breathe. I also wanted an abundance of nature and new trails to explore. Close proximity to an urban area but not in the middle of it. Easy access to an airport. Industrial base in the industries I have experience in. Relatively affordable. And real summers.
To be honest, I thought I'd end up back on the California Coast. Santa Barbara, San Luis Obispo, Santa Monica, San Diego, and Long Beach were all on my list. But after spending a lot of time researching, I realized many of those places didn't check a lot of my boxes either. Part of the reason is that California as a state is expensive and has its own major challenges. That got me to think about places in other states. New York City is a non-starter. Portland and Seattle are too rainy and moody. Austin is too Texas. But Denver has a lot going for it.
Every time that I have visited Denver I greatly enjoyed it. Not only that, the people that I was visiting talked about how much they loved it as well. I even know people that have since moved away and say they wish they could go back. It's a major US capital city but not necessarily a densely packed one. It has embraced growth and there are plenty of great neighborhoods to live in depending on what you're looking for. It sits just east of the Front Range of the Rocky Mountains and is a trail running mecca. The airport is a major hub for many destinations. It supposedly has over 300 days of sunshine. There is not only a tech industry base but Colorado has long been home to the space industry. And I have a handful of friends here that would help the social transition.
So, in the beginning of February I decided to rip the bandaid by quitting my job, giving notice at my apartment, and making the firm decision to move to Denver. By March 3rd, after a month of craziness and a three-day road trip, I arrived at my new home in the Sloan's Lake neighborhood.
It's been two weeks now and I can already tell that I made the right decision. I'm settling in to my two-bedroom bungalow with a yard that Luna loves. We're super close to a great lake and park. Everything is a short bike ride or drive away. The pace of life is much more relaxed. People are friendlier. The mountains are magnificent. And, so far, I'm starting to actually enjoy the cold and snow (but can't wait for spring and summer).
To be fair, it is a bit strange moving to a new city amidst the spread of a global pandemic. Bars, restaurants, gyms, and most other social venues are closed for several weeks. People are encouraged to limit contact with others and stay home as much as possible. All of this isn't the best when you want to meet people and explore the town. But I know it is temporary and best for everyone's health and safety. Plus, it's a bit easier to social distance when you aren't working and don't know a whole lot of people. I am also grateful to not be holed up in a small apartment and can enjoy my quarantine from the comfort of my back deck, my porch swing, or my living room.
I'm very excited for this new chapter of my life and can't wait to see what opportunities, adventures, and experiences unfold.
---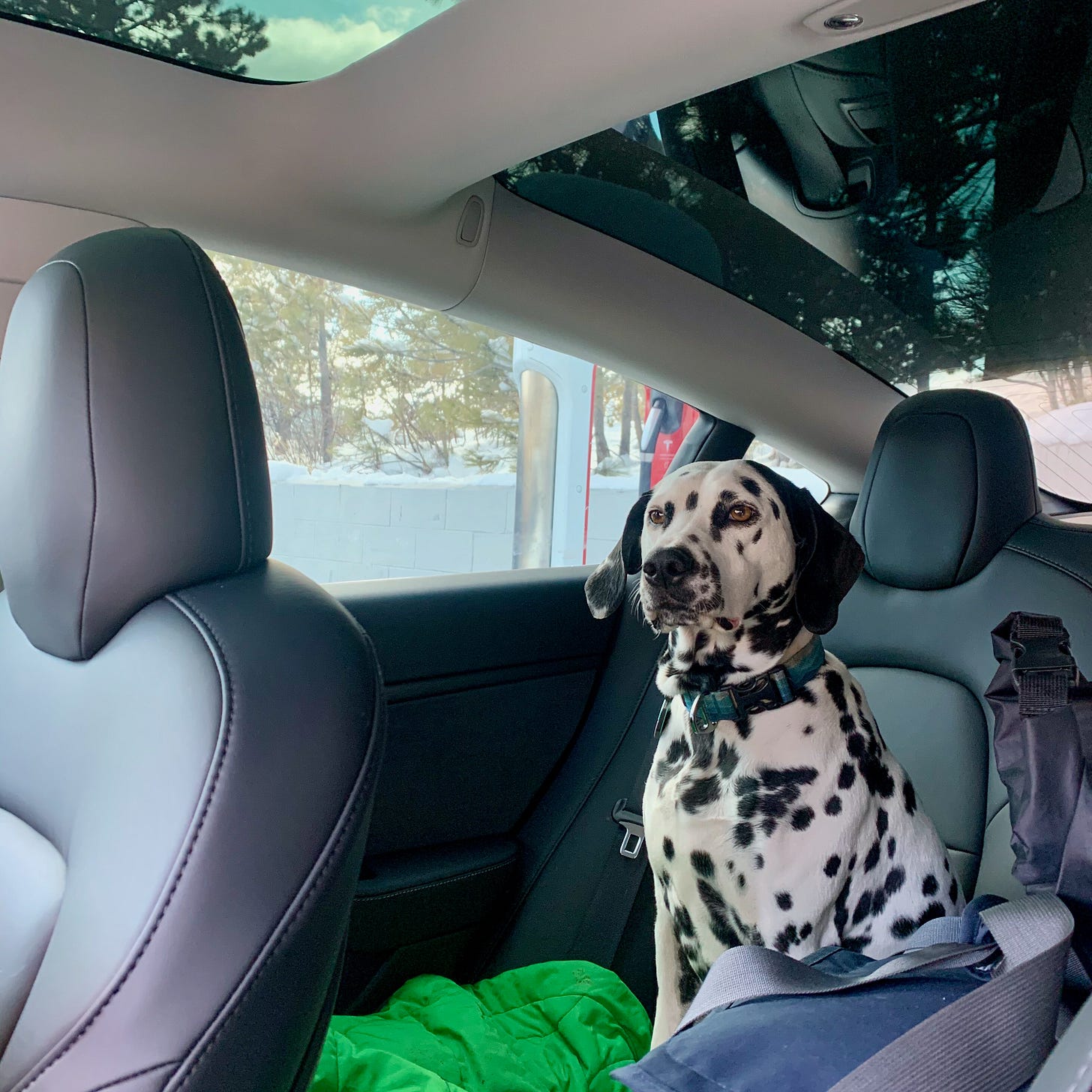 Our first Supercharging stop in Truckee, CA. Luna was about to experience snow for the first time.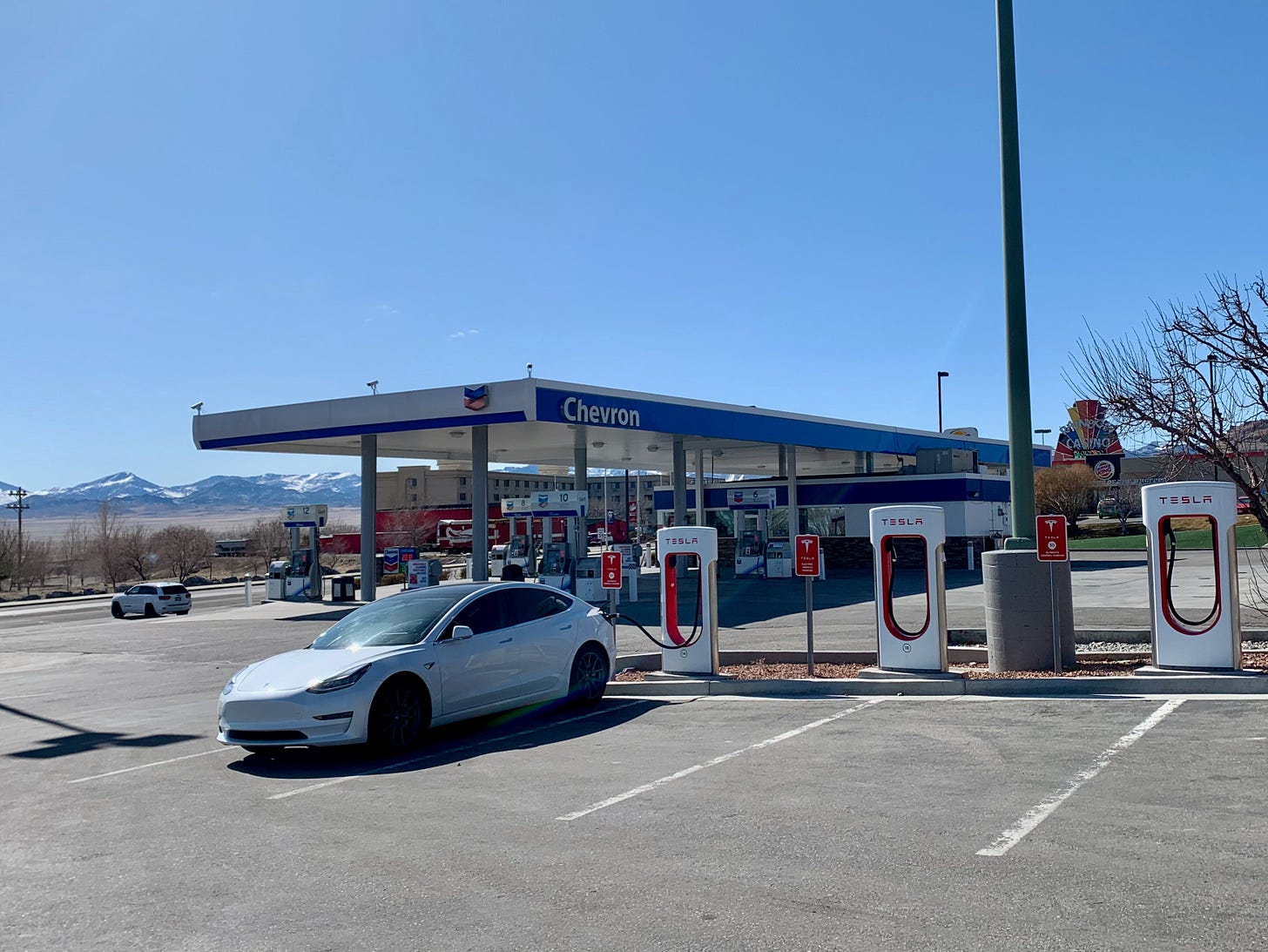 The past and the future at the West Wendover, NV Supercharger on the Utah boarder.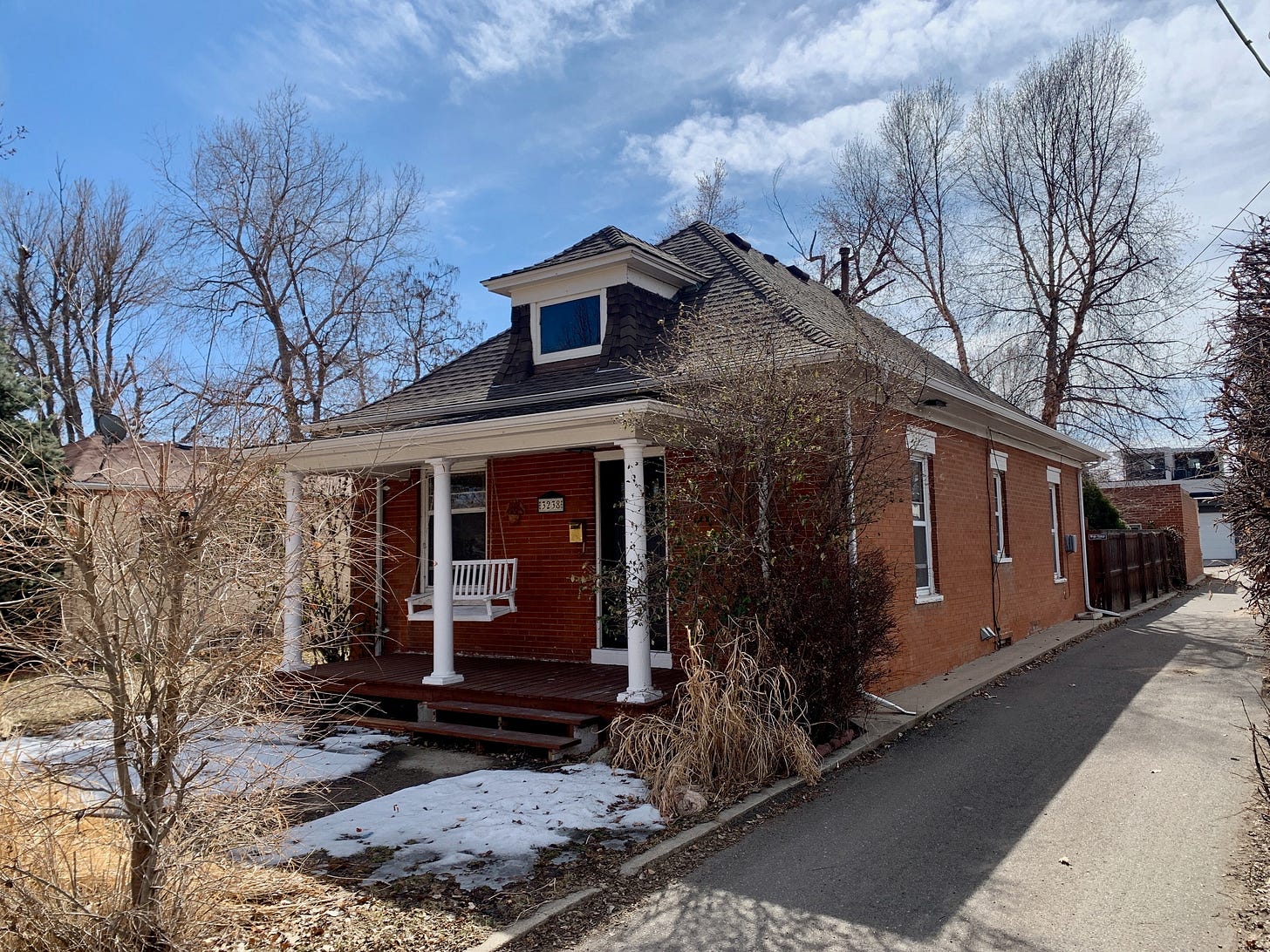 Our new home. ❤️🏡

Sloan's Lake Park with the Front Range in the background. A few blocks from our house.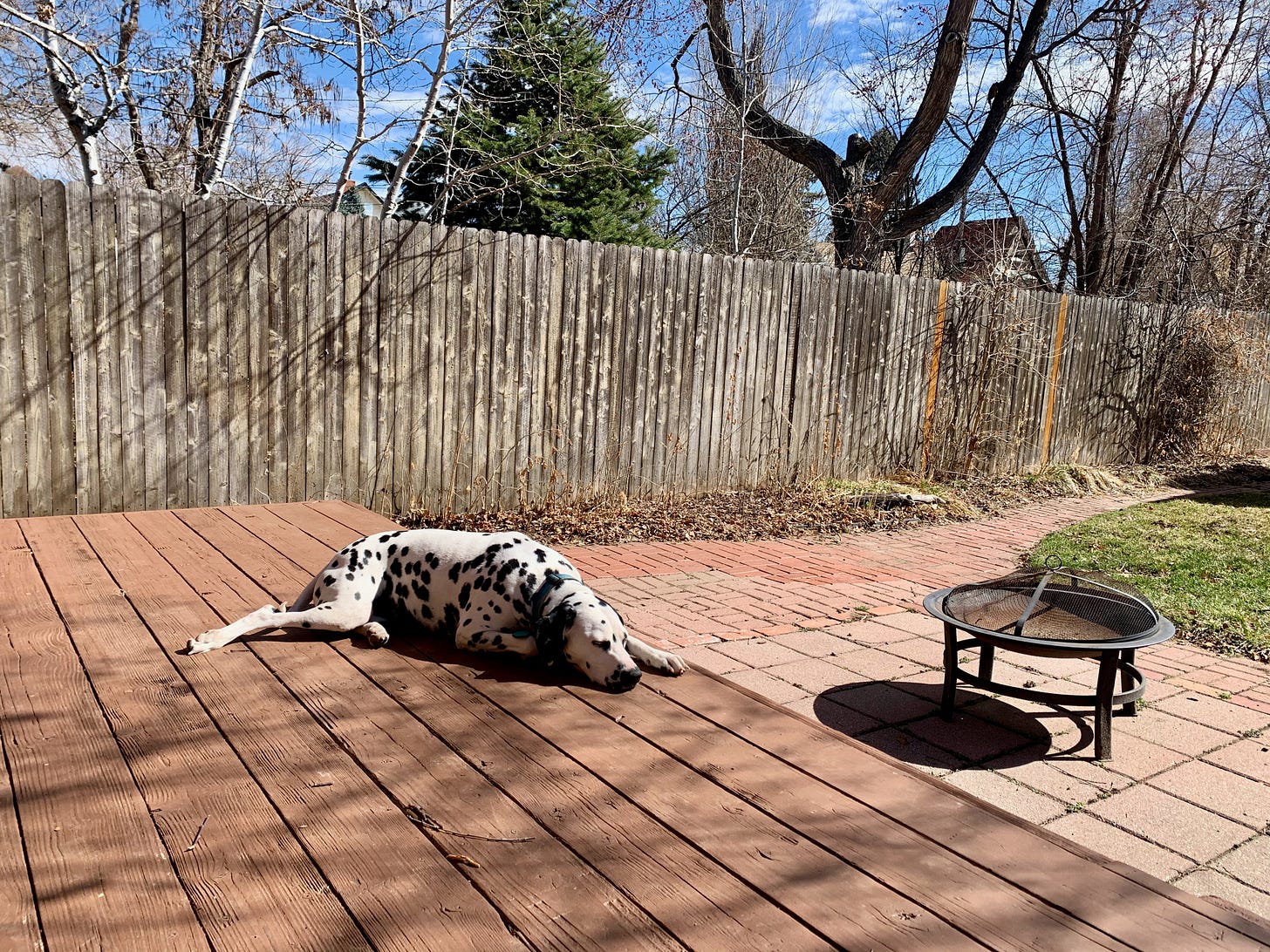 Luna enjoying some midday sun. Lots of backyard projects to do to get ready for summer.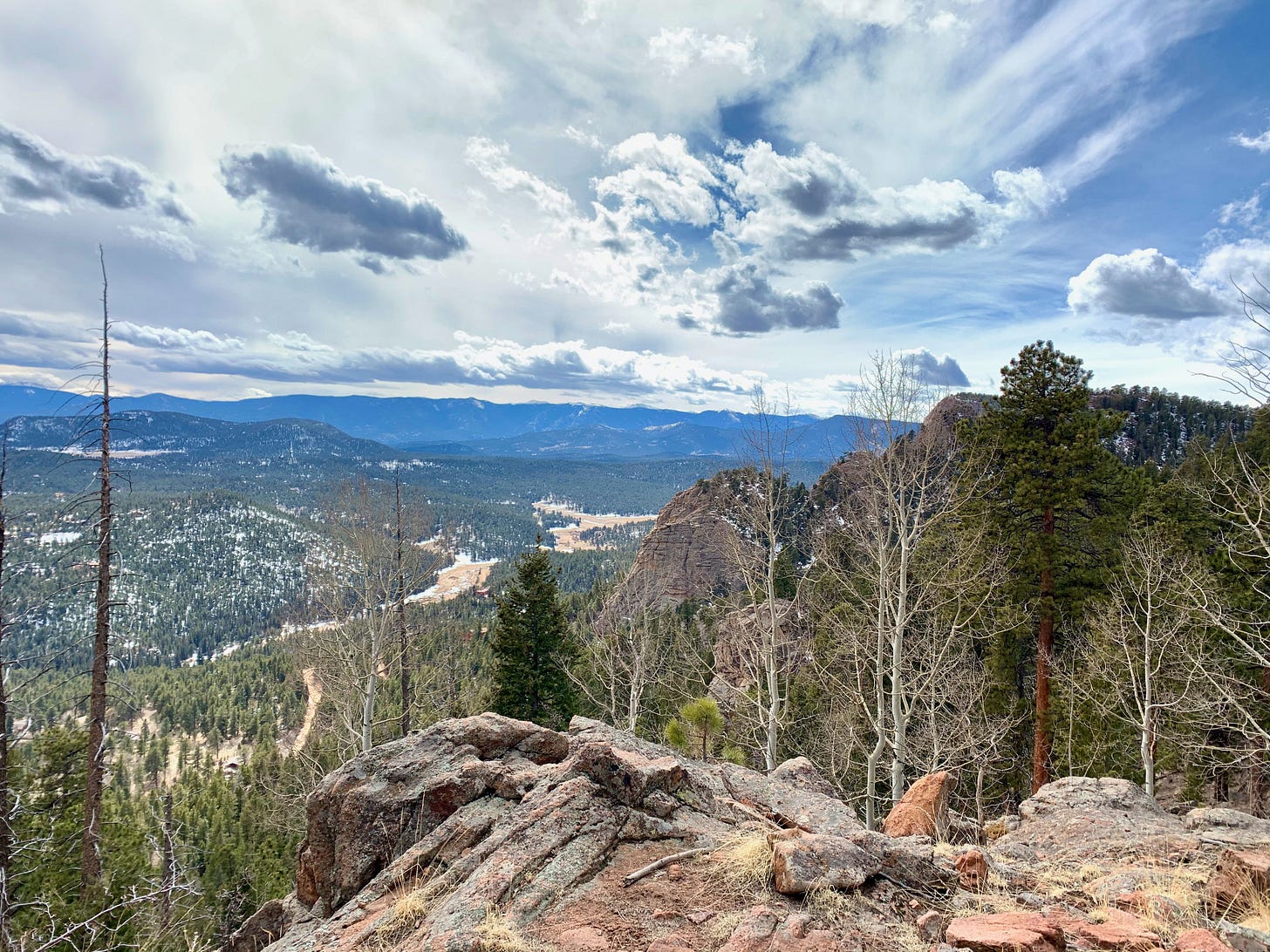 First trail run as a Colorado resident in Staunton State Park.